Ousmane Dembele signs for Barcelona
Submitted by
content
on Sat, 09/23/2017 - 06:16
Barcelona have officially confirmed the signing of Ousmane Dembele from Borussia Dortmund for an initial fee of around £96.6m.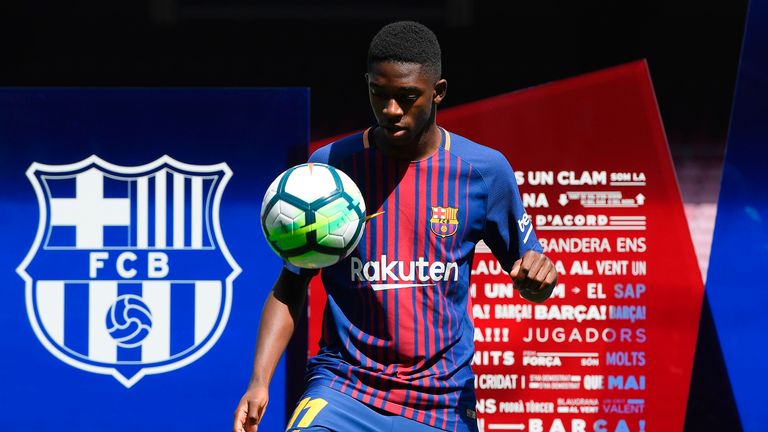 The deal is likely to rise to around £135.5m with the numerous add-ons negotiated as part of the agreement.
Dembele had been the strong subject of speculation in recent weeks following Neymar's departure to Paris Saint-Germain for a world-record £198m sum. Dortmund were initially reluctant to part ways with their promising prospect, but the chance to make a hefty profit from the youngster was too hard to refuse. The German giants have since recruited Andriy Yarmolenko from Dynamo Kyiv to fill the void.
"I'm really pleased to form part of the Barca family. I have always wanted to play for Barca since I was a kid. I watched all their matches," Dembele said after signing his contract."I'm really happy to now be part of the best club in the world with the best players in the world. I hope to win lots of trophies and titles here. I'm hoping for a good, successful year and looking forward to playing here in this stadium."

The former Rennes man has already been compared to Neymar, but the attacker insists that he is a whole lot different from the Brazilian with his career just on the rise. The France international also insists that he has come to Camp Nou to stake claim for the left-wing position rather than acting as a replacement for the ex-Barca star.
Dembele provided six goals and 12 assists during his maiden Bundesliga campaign last term, and his progress has impressed the Catalan giants, who are looking to add fresh blood to the squad prior to this month's transfer deadline. Irrespective of Dembele's arrival, the Copa del Rey winners are expected to continue their pursuit of Liverpool's Philippe Coutinho, who they are hoping to sign before the transfer deadline.
You are here