Gerard Pique prepared to quit Spain before the World Cup
Submitted by
content
on Sun, 10/22/2017 - 07:04
Barcelona centre-back Gerard Pique insists that he could step down from the Spain national side if his support for the Catalonia's independence referendum is deemed an issue.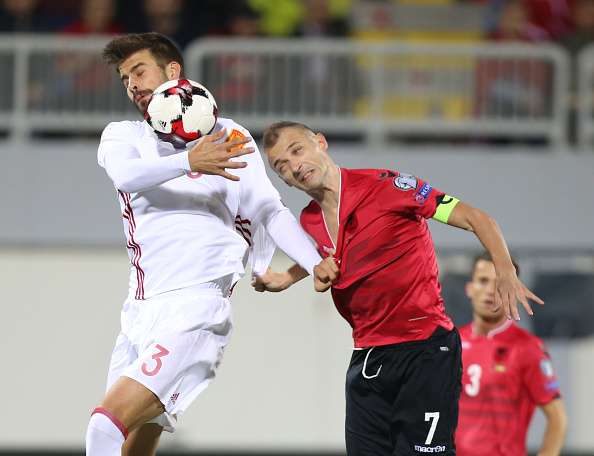 The La Masia graduate has been an open supporter of the movement, although the Spanish constitution has yet to recognise Catalonia as a separate nation.
Amid the unsuitable atmosphere outside the Camp Nou, Ernesto Valverde's side had initially tried to postpone their La Liga fixture against Las Palmas for another date. However, the Spanish football authorities denied the request and the Catalan giants were forced to play in an empty stadium to avoid a deduction of at least six points.
Barcelona won the game by a comfortable 3-0 margin in the end, although Las Palmas had their moments during the course of the first-half. Speaking after the game, Pique said: "I think I can continue. But if the board really thinks I'm a problem, I will take a step back and leave the national team before 2018. There are many people in Spain who disagree with what happened today and believe in democracy. The board tried to suspend the match, but it wasn't possible. We debated it and the club decided we should play. I am and I feel Catalan, today more than ever. I am proud of the behaviour of the people of Catalonia. Voting is a right that must be defended."

Catalonia is the home of nearly 20 percent of Spain's population, but the people have their own language and culture which makes the region unique. Pique was recently booed by the home fans in Spain's World Cup qualifier against Italy, and this trend is likely to continue in the upcoming games with the former Manchester United man not standing back in his support for Catalan independence.
Meanwhile, Barcelona are comfortably settled at the top of the Spanish La Liga after having maintained their 100 percent record in the division. They are currently on 21 points for the campaign, seven ahead of Real Madrid, who are placed fifth in the standings.
You are here