Andres Iniesta Speaks about Importance of Beautiful Football
Submitted by
content
on Sat, 01/21/2017 - 11:06
Barcelona midfielder Andres Iniesta says that it is important to win in an attractive manner rather than just winning a football match.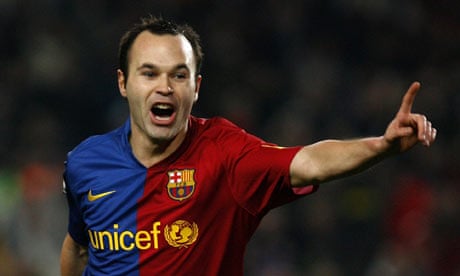 After having come through the youth ranks at Barcelona, it is not surprising that Iniesta is the latest advocate for beautiful football. Barcelona have been criticised in recent weeks for overplaying in some of the matches. The club has been going through a poor run of form with just two wins in the last five matches of all competitions. As a result, they have slipped six points behind table leaders Real Madrid even before the season heads into the winter break.
The club has been under the guidance of some famous names likeJohan Cruyff and Pep Guardiola in the past.Cruyff especially has played a major role in shaping the club's history. In the last three decades, Barcelona have become one of the greatest footballing teams in the world. The ethos of the club is to play in an attractive manner at all times.

Iniesta will be turning 33 this season and he has come a long way in the game. The midfielder has admitted that the 33-year-old Iniesta is not the same as the 22-year-old, who exploded onto the scene with goals against the likes of Chelsea in the Champions League semi-final.
"We have to continue believing in the Barcelona philosophy. It is not enough to just win but how you do it, and how often you do it. It is not winning in any way possible.The passing of time has changed me. The 22-year-old Iniesta is not the same as the 26-year-old, or the 30-year-old or the 32-year-old. It is an evolution and I think it is a good thing. I have always felt I was an important player. I am enjoying my football," said Iniesta.
You are here